In the Central Library Building there are:


Open-stack study rooms available on all of its floors.

Two private study rooms. They are located in the first (room A1) and in the second floor (room A1). In each one of these rooms there are 8 single study carrels available (total: 16 carrels).

One group study room. It is located in the third floor (room C1). It is open for individual use, unless there is a valid reservation for that room. The group study room can serve 12 people approximately.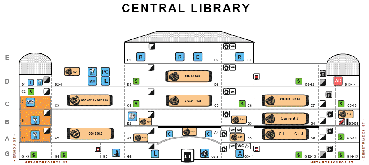 Central Library building elevation.
Click for enlargement.